We are pleased to announce the arrival of our new 2018 Spring Truffle Line.
We are also excited about our latest Truffle:  
BLOOD ORANGE VODKA!!!
This amazing truffle is not only Gluten Free, like all of our products, but it is also

Vegan

.
To order this special item, please email or call us.
Coming in February:
Our 4th Beer & Chocolate Pairing Event!!!
Join us on Monday February 12, 2018 for our next Beer & Chocolate pairing at:
Lucky Luke Brewing Company located at 610 West Ave O, #104, Palmdale, CA 93551  661.270.5588
This is a special event as it will be just 2 days before Valentine's Day.
Please call to make your reservations as seating is limited; this will be a nighttime event, 7 pm.
February 17th & 18th (Saturday & Sunday) from 12 noon to 5 pm:
Join us @ Reyes Winery.  You will receive 2 complimentary chocolates with each paid wine tasting flight.  There will be many options to choose from.  Reservations are not required.
10262 Sierra Hwy, Agua Dulce, CA 91390
Whether you are a fan of milk or dark chocolate, we've got you covered! We take pride in offering products that are made from fresh pure ingredients.  We use no preservatives or stabilizers, only rich Belgian chocolate.  All of our chocolates are hand crafted and hand tempered.
It's love at first bite: Original English and Coconut Almond. A delicate slice of buttery toffee surrounded by dark chocolate. Do you find dark chocolate too bitter? Not our toffee, just a rich, smooth, deep chocolate flavor. Once you try it, you will be addicted.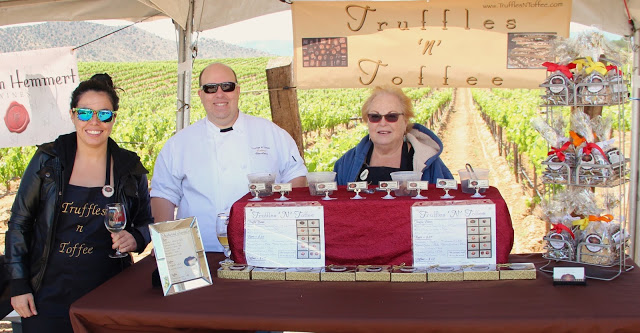 Vegan Chocolates
Do you need Vegan Chocolates?  If so, please contact The Sanctuary At Soledad.  They carry our complete line of Vegan Chocolates!
They are located at The Grove, in Hollywood, 4X a week.  So, if you live nearby or are just passing through, stop and pet a goat or a piggy and purchase your Vegan Chocolates.
Bar Chocolates:  Almond Praline, Peppermint and Lavender.  There are 6 bars in a box.
Truffles:  Peanut Butter, Pecan Praline and Blood Orange Vodka.  There are 12 in a box.
Pairings
Be sure to check out our Pairings page to see which of our chocolates will pair wonderfully with a variety of wines, beers and other alcohols.
Our signature toffees make the perfect gift!