Our new
2022 Spring Truffle Line will be available beginning February 7th.
We have added three new truffles to this season's variety boxes.
We have also updated our One-Flavor truffle boxes.
Wine & Truffle Pairing Saturday February 12th @ 2-4pm @ Triassic Vineyards  

For tickets & reservations, please call them @ 661.822.5341.  They are located @ 24627 Cummings Valley Rd, Tehachapi, Ca 93561.
Four Course Dinner + Wine + Chocolates Pairing Sunday February 13th @ 

2-5pm @ Barrett Cellars.  For tickets & reservations, please visit their website.
They are located at 114 Newgrove Street, Lancaster, Ca 93534.
Fundraising?
Let us help you raise money for your good cause; contact us for additional information.  

We offer a variety of fundraising options with a range of price points.
Whether you are a fan of milk or dark chocolate, we've got you covered! We take pride in offering products that are made from fresh pure ingredients.  We use no preservatives or stabilizers, only rich Belgian chocolate.  All of our chocolates are hand crafted and hand tempered.
All of our products are Gluten-Free!
It's love at first bite: Original English, Coconut Almond and Peppermint. A delicate slice of buttery toffee surrounded by dark chocolate. Do you find dark chocolate too bitter? Not our toffee, just a rich, smooth, deep chocolate flavor. Once you try it, you will be addicted.  They make a wonderful gift.
We now offer a variety of Vegan Toffees!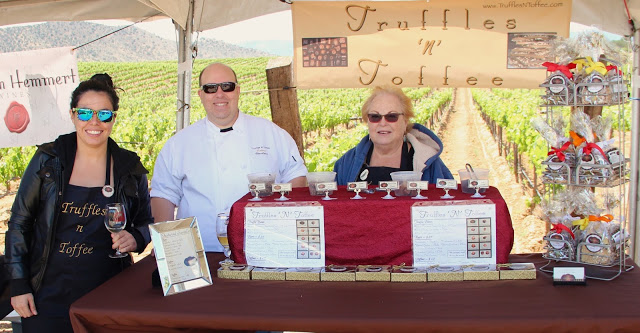 Vegan Chocolates
We offer a variety of options including: Truffles, Toffees and Bar Chocolates. 
Pairings
Be sure to check out our Pairings page to see which of our chocolates will pair wonderfully with a variety of wines, beers and other alcohols.
Our signature toffees make the perfect gift!