When placing your order, please understand that your order will be available for delivery within 3 to 5 days.  If you need your order sooner, please contact us right away.
If you plan on ordering for the holidays, we recommend getting your order(s) placed ASAP to ensure we are able to produce and deliver your order in a timely fashion.
Whether you are a fan of milk or dark chocolate, we've got you covered! We take pride in offering products that are made from fresh pure ingredients.  We use no preservatives or stabilizers, only rich Belgian chocolate.  All of our chocolates are hand crafted and hand tempered.
All of our products are Gluten-Free!
It's love at first bite: Original English, Coconut Almond and Peppermint. A delicate slice of buttery toffee surrounded by dark chocolate. Do you find dark chocolate too bitter? Not our toffee, just a rich, smooth, deep chocolate flavor. Once you try it, you will be addicted.  They make a wonderful gift.
We now offer a variety of Vegan Toffees!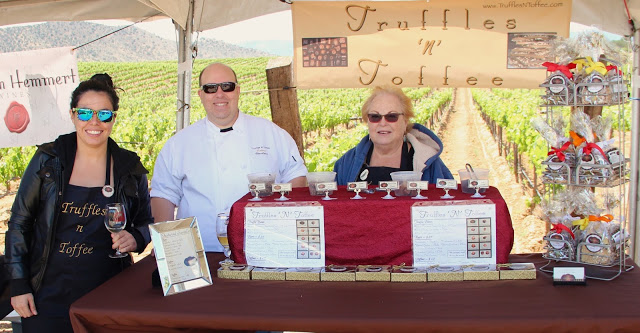 Vegan Chocolates
Some of the selections are available year round others are either special order or seasonal.  Contact us for further inquiries. 
Bar Chocolates:  Almond Praline, Toasted Coconut, Peppermint, Lavender, Toasted Almonds and Toasted Hazelnuts.  There are 6 bars in a box.
Truffles:  Peanut Butter or Blood Orange Vodka.  There are 12 in a box.
Toffees:  Signature English Toffee (Covered in toasted almonds, dark chocolate and a little sea salt),
Award-Winning Pecan Toffee (Fresh-toasted pecans infused into our toffee available without chocolate or hand-dipped into Dark Chocolate).
Pairings
Be sure to check out our Pairings page to see which of our chocolates will pair wonderfully with a variety of wines, beers and other alcohols.
Our signature toffees make the perfect gift!